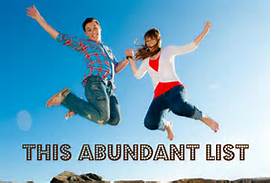 Giving thanks always for all things unto God and the Father in the name of our Lord Jesus Christ. Eph 5:20
Sometimes we carry on sayings, traditions, or customs without much thought.  That may or may not prove to be a good or wholesome habit.  In today's message, may we share a simple, but profound choice my wife and I have made in regards to referring to our future plans.
There is a popular idiom called a "bucket list" used to call things you really would like to do before you take your last breath.  The image of a person about to be hanged standing on a bucket until the order is given to kick it away, ending all future dreams helps us picture the origination of the words "bucket list." We've chosen to describe our future dreams in a very different way.
We have agreed to refer to our anticipated endeavors, adventures, and routines as our Abundant Life List (ALL).  Our reference is not in the panic of a person about to be eliminated, but in the eternal hope that life goes on forever in the majesty of our Creator and Father.  The Bible says, the enemy comes to steal, kill, and destroy, but God comes to bring us life abundantly.  (John 10:10)  In Jeremiah 29:11, it says, For I know the thoughts (plans) I think toward you, says the Lord, thoughts of peace, and not of evil, to give you an expected end.
From a hot air balloon ride, to trips to Gettysburg, Prince Edward Island, and Washington, to kayaking the Providence River, to climbing Mount Tom in Vermont, to taking the grandchildren to Water Wizz, to celebrating family birthdays and events, gathering our entire family at Lake Winnipesauke, to the routines of eating, drinking, washing dishes, cutting the grass, going to work and living life on a daily basis, we choose to celebrate our unfolding life and to glorify the only God responsible for it.
Perhaps you have a saying, tradition, or custom that needs to be reviewed.  In light, of God's word, may what Paul said in Phil 3:13-14 encourage you:  Brethren, I count not myself to have apprehended: but this one thing I do, forgetting those things which are behind, and reaching forth unto those things which are before, I press toward the mark for the prize of the high calling of God in Christ Jesus.
So family and friends, where do we go from here?  Jesus gave us His all so we can access His Spirit to have His love and joy in whatever comes our way.  In that heart-felt reality, the hurry and function of a doomy "bucket list" simply surrenders to the peace and hope found in the divinely inspired Abundant Life List.
1 Cor 10:31; 1 Thes 5:18