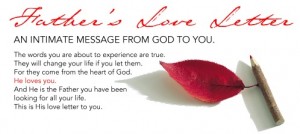 You were not a mistake, for all your days are written in my book. Ps 139:15-16
Every one of us is different, yet so similar when it comes to our desire to be loved and protected.  Last week, we acknowledged God as love and the requirement each of us has to accept Him as our Heavenly Father.  In today's message, may we go even deeper by sharing with you a comprehensive love letter from the Source of all life. It is written throughout the Bible or what is called the inspired word of God.  We have taken the liberty to identify a number of these nurturing and cherishing nuggets.  Since we were not a mistake and all of our days are written in His Book, then let's receive this same Author's love letter as if it were personally addressed…
My Dearest Child ~
It is my desire to lavish my love on you because you are my child, I am your father, and you are my treasured possession who I chose when I planned creation.  I offer you more than your earthly dad ever could, for I am the perfect Father.  Sadly, you may not know me, but I know everything about you.  You see, you were made in my image and likeness.  I am familiar with your ways and know when you rise up or sit down.  I even know the number of hairs on your head.
I have been misrepresented by those who do not know me.  I am not distant and angry, but am the complete expression of love. You may not have thought about this, but I knit you in your mother's womb.  You are awesomely and wonderfully made and my plan for your future has always been filled with hope.
There are many voices you'll hear but I am your greatest encourager.  I am also the Father who comforts you in all your troubles.  When you are brokenhearted, I am close to you.  As a shepherd carries a lamb, I have carried you close to my heart.  One day, I will wipe away every tear from your eyes and take away the pain you have suffered on this earth.
Dear child, I am your Father, and I love you even as I love my Son, Jesus.  For in Jesus, my love for you is revealed because He is the exact representation of My being.  He came to show you that I am for you, not against you and to tell you I am not counting your sins.  Jesus died so you and I could be together again.  His death and resurrection was the ultimate expression of my love for you.  I gave up everything I loved that I might gain your love.
If you receive the gift of my Son Jesus, you receive me and nothing will ever separate you from my living love again.  I have always been Father, and will always be Father.  My question to you is ~ Will you be my child?  Please come home and I'll throw the biggest party heaven has ever seen.  I am waiting for you!
Love,
Your Dad, Almighty God                                                                                                                 
1 John 3:1; Ex 19:5; Eph 1:11-12; Matt 7:11; Matt 5:48;  Ps 139:1-3; Gen 1:27; Matt 10:29-31; John 8: 41-44; 1 John 4:16; Ps 139:13-14; Jer 29:11; 2 Thes 2:16-17; 2 Cor 1:3-4; Ps 34:18; Is 40:11; Rev 21:3-4; John 17:23; John 17:26; Heb 1:3; Rom 8:31; 2 Cor 5:18-19; 1 John 4:10; Rom 8:31-32;1 John 2:23; Rom 8: 38-39; Eph 3:14-15; John 1:12-13; Luke 15:7; Luke 15:11-32