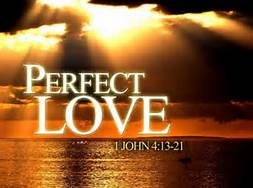 Riches take wings, comforts vanish, hope withers away, but love stays with us.  God is love. – Lew Wallace, author of Ben Hur
These days, if fear was a stock there would be no shortage of investors.  We are at a time and place in our history where there is an eerie sense that something ghastly and/or wicked is about to happen. The form it will take is the only question. Will it be a nuclear war, a financial collapse, a civil revolution, a viral pandemic, a polar meltdown, a meteor collision or some other unanticipated, yet all-encompassing calamity?  Are we destined to just "bear" what seems to be such a dreary forecast?  Thanks be to God, the One ultimately in control, the answer is ABSOLUTELY NO!!!
We know if we always do what we always did, then we'll always get what we always got.  If our pattern is to fall apart when things around us begin to unravel, then we need to resolve to do otherwise!  The Bible says that God is love and whoever confesses that Jesus is the Son of God, God dwells in him and he in God.  It also says that love never fails and has no fear.  As a matter of emphasis, perfect love (the God kind) casts out fear because fear has torment. Like light and darkness, love and torment can not occupy the same time and space.
In addition, the Bible says that God has not given us a spirit of fear, but a Spirit of love, power, and a sound mind.  In other words, the fallen world we live in has its inherent tormenting way of conducting business. By His grace, however, God has His way for us to operate as champions within it as well. In God's Family Business, we have access to His nature; the One that never fails, generates over-coming life energy, and develops a peaceful, joyful, discerning, and creative way of thinking.
In this message, let us get these three things invested deep in our heart: 1) God loved us first and He loved us before we were on the scene.  His love for us has always been, is, and will continue because God is Love. He even died for our sins to prove beyond any doubt He cared for each of us personally.  2)  We are capable of loving Him back with a Spiritual intimacy that His grace not only allows, but encourages.  3)  We are to serve one another with the God kind of love because it's ultimately practical, it's part of God's Kingdom government, and He has commanded us to do so.
Family and friends, let's know that the same perfect God who etched the Ten Commandments in stone is the same One who is fulfilling His promise to etch His Spirit and moral law of love in our hearts today.  What could be more hopefully amazing or awesome?
So in the midst of His gifting and flawless agenda, let's have a great week and to God be the Glory!!
1 John 4: 13-21; 2 Tim 1:7; Psalm 91