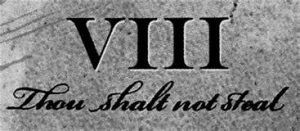 He who steals must steal no longer; but rather he must labor, performing with his own hands what is good, so that he will have something to share with one who has need. Ephesians 4:28
Taking what does not belong to us is a violation of God's 8th commandment. "Thou shalt not steal" is easy to discern as it relates to a robbed goat, a hijacked airplane, a kidnapped child, or a plagiarized writing. "Stealing" is not always so cut and dry, however. Take for example cheating on an exam, undermining someone's will, not paying our bills, faking sick time, downloading software illegally, withholding taxes, working slothfully, stealing cable services, or defaulting on loans. What about when we look at our calendar and check book and discover we are cheating God with our time, talent, energy, and treasure?
Stealing boils down to a matter of trust. If we have to resort to wrestling goods or talents from another person rather than operating in the provision of God, then Philippians 4:19 means nothing: "But my God shall supply all your need according to His riches in glory by Christ Jesus." If we take things that do not belong to us, then the wonderful confidence spoken of in Matthew chapter 6:25-33 doesn't count. If callous plundering of our neighbor's materials and services is our behavior pattern, then the devil surely is having his way: "The enemy comes but to steal, kill, and destroy…" (Jn 10:10).
Our magnificent Creator has made us to produce so we can thrive. He has made us with a conscience and ability to observe His masterpiece called earth and the heavens so we can be humbly honest in our behavior as well. He gave His only begotten Son in the most unconditional loving gesture so that we could be givers too.
Perhaps a tombstone in the graveyard on Blackwell's Island says it best: "Here lies the fragments of John Smith who contradicted His Maker, played football with the Ten Commandments, and departed this life at the age of thirty-five. His mother and wife weep for him. Nobody else does. May he rest in peace."
Let's put an end to defying God's goodness or playing games with His law. Rather, let's purpose to really know and follow Him.  Romans 13:8 (Amp) says it best: "Keep out of debt and owe no man anything, except to love one another; for he who loves his neighbor (who practices loving others) has fulfilled the Law (relating to ones' fellowmen, meeting all its requirements)."  In light of that, the 8th Commandment,"Thou shalt not steal," becomes easy!
Ex 20: 15