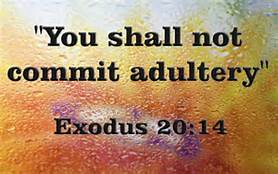 "There hath no temptation taken you but such as is common to man: but God is faithful, who will not suffer you to be tempted above that ye are able; but will with the temptation also make a way to escape, that ye may be able to bear it." 1 Corinthians 10:13
If we are able to wade into the Ten Commandments with a teachable spirit and accept truth as a friend, then we quickly begin to realize the high standard God has set for us. To be sure, their fulfillment lies beyond our capabilities; yet, God's grace and mercy are more than sufficient to bridge whatever gap exists. Now let's focus on the value God has for faithfulness and sexual purity. The 7th commandment, "Thou Shalt Not Commit Adultery", warns us of sinning against God, our spouse, and against our bodies (1 Cor 6:18). According to God's Word, engaging in counterfeit gods and/or not being faithful to one's husband or wife is defined as adultery.
According to God's law, marriage vows made before Him should be honored, regardless of difficulties. Sex, being a gift from God, is reserved for marriage only. In the Old Testament, Leviticus 20:10 sternly calls for adulterers to be put to death. In Jeremiah 3:3-6, God calls being unfaithful to Him adultery. After King David committed adultery with Bathsheba, he was confronted by Nathan the prophet. He repented and wrote the 51st Psalm that asked God to create a pure heart in him. An adulteress that was brought to Jesus was told by Him that no one condemned her and neither would He. He did, however, tell her to go and sin no more.
Jesus increased the magnitude of this standard when he addressed His disciples in the Sermon on the Mount. He said, "You have heard that it was said, 'Do not commit adultery.' But I tell you that anyone who looks at a woman lustfully has already committed adultery with her in his heart" (Mt 5:27-28). He also said that adultery, as an act of marital unfaithfulness, was grounds for divorce (Mt 19:9).
Jesus was careful to explain an adulterous heart: its inner motive is to satisfy self. The seed of selfishness gets planted, takes root, grows and produces a lustful fruit.  He also noted what would cause one to seek to serve others: a heart that operates from God's seed of love.
Can we really love others and be faithful the way God demands? His word says if we do what He commands, He will give us the provision to carry it out by the power of His Holy Spirit. In the Book of Romans, chapters 7 and 8, Apostle Paul best captures and defines this divinely inspired transforming process.    From this point on, let's not condemn ourselves for not being perfect, let's not get weary in pressing in to do good, and let's purpose to keep pure our relationships with our God, ourselves, our spouses, family and neighbors. Do these and watch what God or Love Himself will do in equipping, restoring, and settling us into His 7th command "Thou Shalt Not Commit Adultery."
Ex 20:14; Heb 13:4